TL Bag
TL141423
Soft Leather cellphone holder mini cross bag
Notify me the availability
Thank you. We'll send an e-mail when the item becomes available
Email address is not valid
Gift Wrap + Customization
Main features
- Soft structure
- 1 compartment
- Leather shoulder strap
- Soft full grain leather
Details
+ Info
Reviews
Warranty
Product measurements ( decimal Imperial Imperial decimal )
- Dimensions: 11.50 x 17.50 x 3.50 cm
- Dimensions : 4.53 x 6.89 x 1.38 inch
- Weight: 0.10 Kg
- Weight: 0.22 Lbs
- EAN:

8054383737963
Type
Composition
- Soft full grain leather
- Cotton lining
Features
- Soft structure
- 1 compartment
Outside part
- Front pocket with closure
- Pocket on the back side with closure
Shoulder strap
- Adjustable strap
- Detachable shoulder strap
- Leather shoulder strap
Hardware
Closure
- Zip closure
- Magnetic button closure
We have successfully received your question. We will answer as soon as possible
Our products are Made in Italy, with 100% genuine Italian leather and provided with a 24 months warranty guaranteed by the manufacturer.
Each item is crafted and undergoes to careful quality controls. Small imperfections depend on the handcrafted production, such as colour light variations are naturally related to tanning: this is not a fault but a value.
In order to ensure long life to your product, we are glad to offer a post warranty repair service and to provide replacement spare parts for your items.
Turn your leather good in a life mate, with our selected products for its care.
You may also like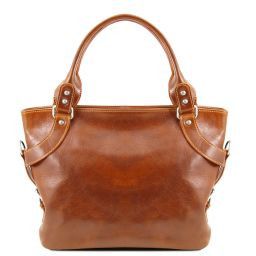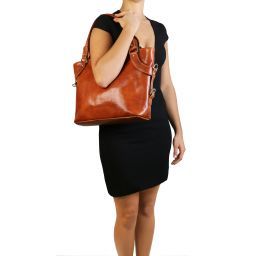 Questions & answers
Question: Karla
What is the width of the cellphone compartment? I have a Samsung Note8, will it fit?
Answer: Customer Service
I kindly inform you that the width of the cellphone compartment is 0,5cm. The bag can fit smartphone of 5.5" so it's not suitable for you Samsung Note8.